Total Efficiency
The Automated Wireless Delivery application is a reliable and secure real time wireless data collection system designed using Windows, ANDROID or Windows Mobile and Microsoft's SQL Server. AWD will allow you to effectively monitor and control your delivery fleet. A proven tool, designed exclusively for the petroleum distribution industry. The AWD application makes it possible to meet the changing demands of your customers. For over 18 years, large and small petroleum distributors across the United States and Canada have been realizing huge increases in profit and efficiency with our established wireless solution.

Android
The latest addition to AWE's growing family of mobile solutions is the Mobile Delivery application on Android.  Android technology has shown itself to be the powerhouse in mobile computing and the AWE team has developed a robust and flexible Android offering that can be run on a selection of portable and rugged tablets.
Enjoy all the functionality of the AWE legacy Windows Mobile solution plus all these new features for Android:
Beautiful new interface for the drivers to easily navigate
Simple training for drivers already accustomed to using AWE Windows Mobile solutions
Larger screens (up to 8″) than legacy AWE Window Mobile solutions
Reduced hardware dependencies I.E. bluetooth-to-meter option; SIM card ready tablets eliminate the need for an external modem
Designed to coexist and interact with Android device's other apps
Customize ticket detail screens including color, font controls and overall layout
Intelligent data entry fields for faster input i.e. prompted to enter a volume, the keyboard will be numeric only
Easy ticket list refresh with a swipe of the screen
Full language support (English and French)
Turn-by-turn navigation using Android default apps
Easy truck configuration with a single click
And much more!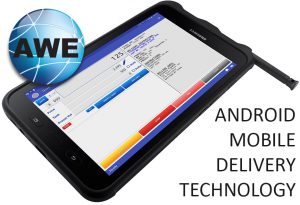 AWE Android Mobile Delivery – Delivering the goods!
Logistics
The AWD application tracks all daily transactions and maintains your deliveries. The driver's can leave a detailed invoice with the customers and the transaction data is immediately transmitted back to your office accounts receivable system. This important feature greatly reduces the billing cycle and eliminates data entry errors. The system eliminates printing tickets, losing tickets, bursting tickets, posting tickets as well as postage, envelopes and stuffing envelopes saving time and money!  This dispatching system also integrates seamlessly with E-Sys, AWE's Automatic Vehicle Location software and Automated Route Manager software to provide your dispatchers and Delivery management team with the full picture, in real-time!
Mobile Delivery
The reliable and secure real-time wireless point of sales system allows your drivers to be more efficient than ever before!  Whether you need your drivers to perform fleet deliveries (also known as wet hosing or on-site refueling), propane cylinder exchanges or standard deliveries; AWE's Mobile delivery system has what you need.
Mobile Delivery allows you to:
Bar code your client's tanks
Provide proximity warnings if your driver is at the wrong location
Geocode delivery sites
Accept and record payments
Warn your drivers of COD customers
Apply delivery charges manually or automatically
Preform pre-fill inspections
Chat with drivers
Sequence deliveries
Print on pre-printed tickets or from thermal printers
Manage and maintain inventory transactions
Perform propane cylinder exchanges
Perform gravity drops, pump-outs, transfers, unscheduled deliveries
Print detailed, customizable invoices
And much, much more!

Mobile Fleet Delivery
The ability to provide your customers with a full solution, including fleet fueling, provides peace of mind.  The AWE mobile fleet delivery system allows the driver to manage the vehicles and equipment easily and provide the customer with a fully detailed invoice including a breakdown of all the vehicles and equipment delivered to.  The vehicles and equipment can be identified with RF tags, customizable barcodes and, coming soon, NFC chips.
AWE Fleet allows you to:
Add and remove vehicles on-site
Replace damaged bar codes on-site
Communicate in real-time between the office and the driver
Print detailed, customizable invoices
Provide options for universal equipment, versus location specific equipment
Affix a barcode on both sides of tractor trailers, so the driver can scan and fill from either side
Get signatures from the customer
Provide customers with access to

detailed f

leet transaction with the AWE Web Portal
All the tools of AWE Mobile Delivery as well!
And much, much more!

Cutting Edge Technology
The AWE prides ourselves in providing our clients with the latest and greatest in rugged and easy to use hardware in the field.  We have partnered with Intermec, Honeywell and Motorola for many years and now are introducing Android technologies (first quarter 2019) with partnerships with Samsung, Honeywell and Zebra tablet and smartphone products to expand the choices in flexibility and efficiency for our clients.